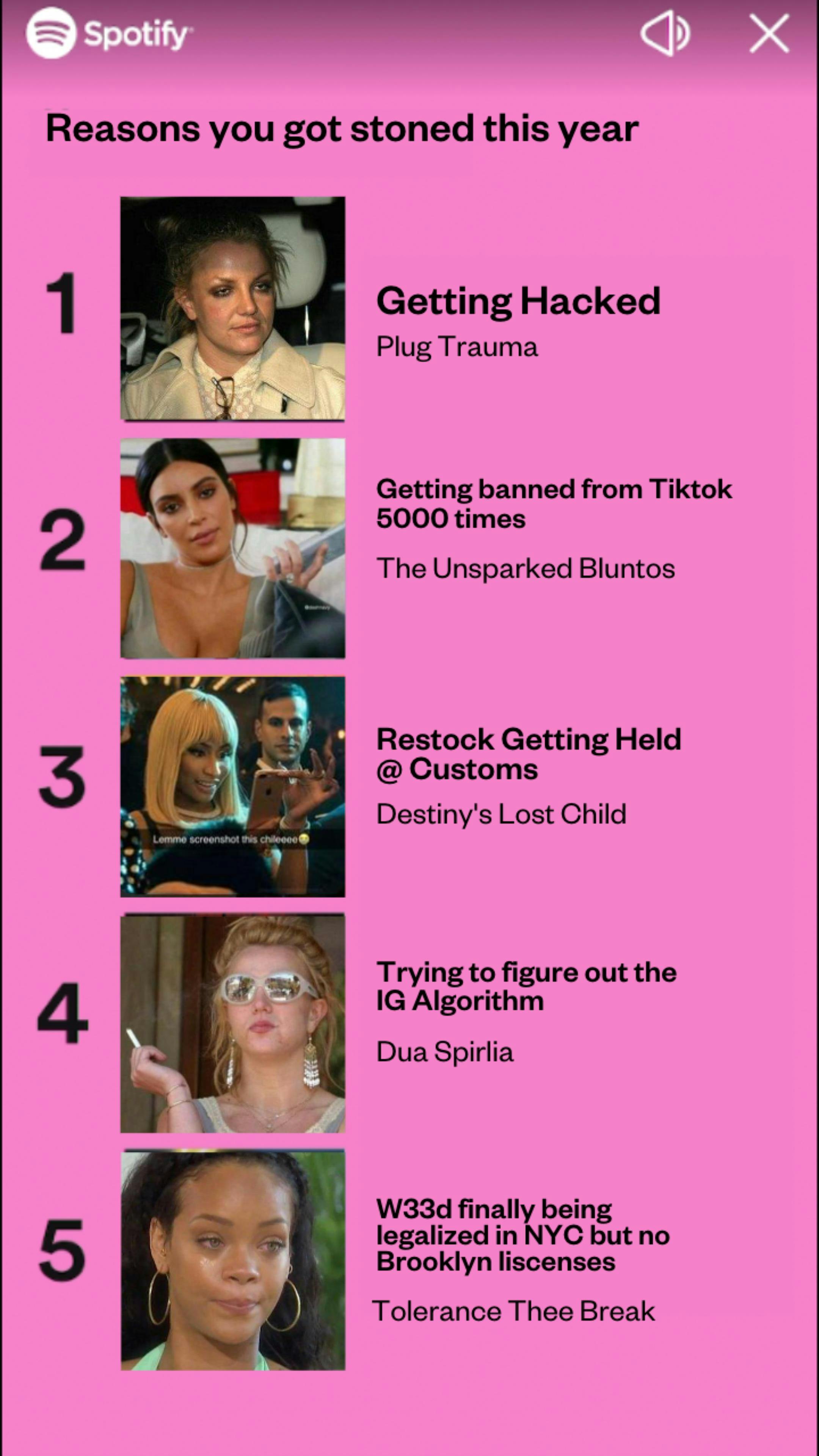 Ask a Stoner Wrapped: 2022
Season's greenings, my little potheads! As we near the end of the year, this is the time to reflect on how far we've come and to look forward to where we're going next. We started Ask a Stoner this year with just a joint and a dream, and here we are many Tiger Beat-style quizzes, full ashtrays, and a budding case of carpal tunnel later. I'm so grateful to have gotten to know you all this year, and I can't wait for you all to see everything we have in store for 2023.
In honor of this period of reflection, I humbly present to you your Ask a Stoner: Wrapped. Though you can't use it to virtue signal your superior taste in music to all of your super interested Insta followers, you can show off your love of women-owned small canna businesses and newfound knowledge to bring to the sesh.
This year, you asked 32 questions. You're a lifetime student!
You discovered your smoking style — turns out you're quite the trendsetter!
You learned the difference between Delta-8 and Delta-9 (Who, incidentally, is afraid of Delta-7) (Because 7 ate 9). 
You tried dabs for the first time — they're not so scary after all!
You decided that weed was a healthier alternative to letting loose with alcohol, good for you! 
You consumed mindfully and asked the hard questions about your relationship with green. 
You even introduced cannabis into the bedroom, asking how the plant could spice up your sex life. 
You tried weed in every setting, actually — from the boardroom to the third eye space. 
Like your Resident Stoner, you learned a lot more about working in weed this year.  
We saw the most iconic stoners on the silver screen and picked out your absolute favorite Friendsgiving specials to smoke to.
Most importantly of all, we learned how to protect the Earth while we appreciated its bounty. 
Your Top Questions
4. How to Use Weed for Mental Health
Now, go on and celebrate your newfound knowledge with a weed winter wonderland party to ring in the new year. Light one for me!
Love,
Stoner