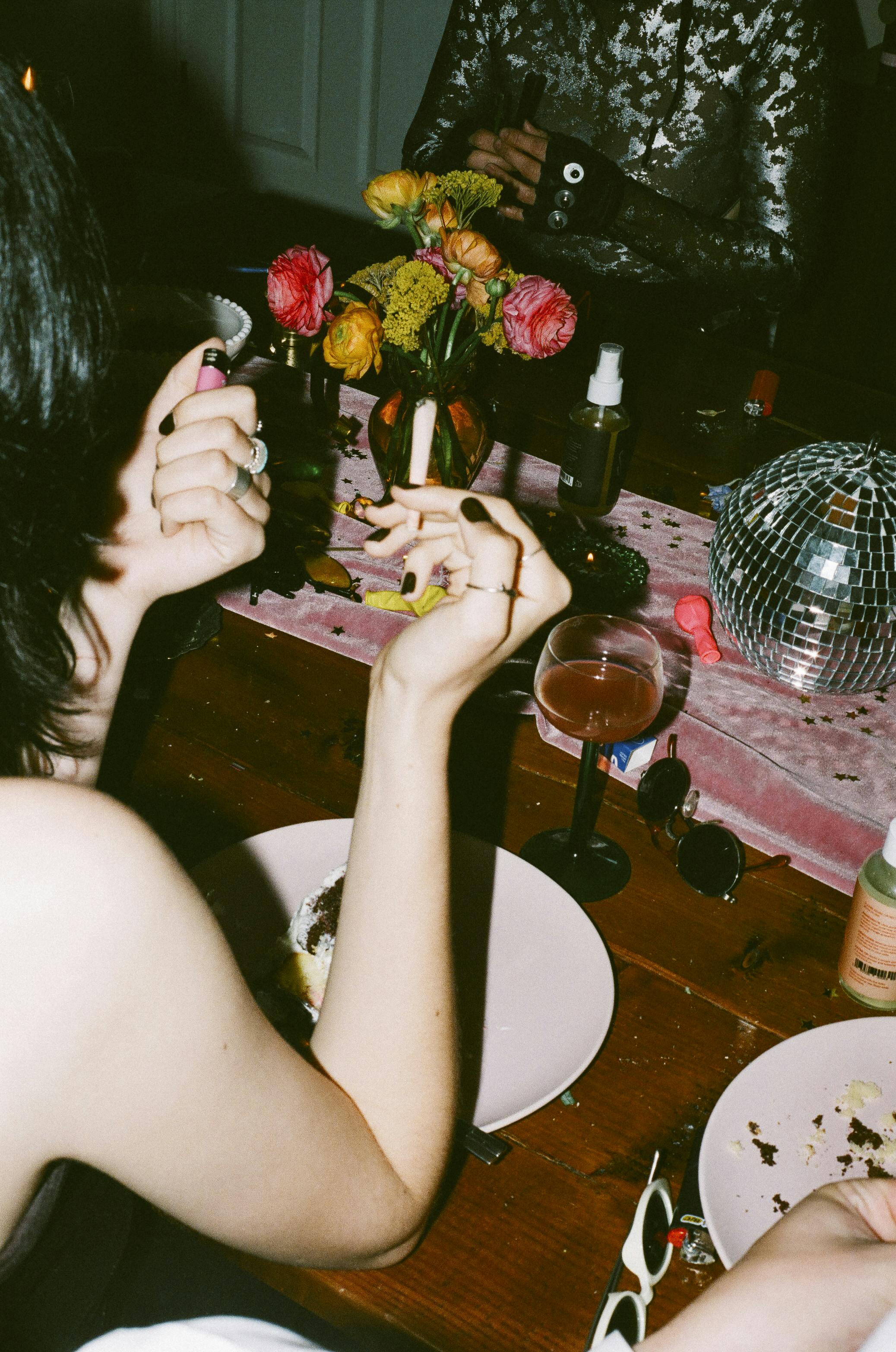 Ask A Stoner ~ What are the Best Friendsgiving TV Specials to Smoke to?
Dear Dazed, 
There's nothing better for a true stoner at heart than a season dedicated to sitting on the couch and eating. Oh, and gratitude, I guess. One of the key components of this state of deep relaxation are Friendsgiving TV specials — a rare reprieve from my usual steady diet of early 2000's reality television. 
There are a few components that go into making the perfect Friendsgiving tv special: hilarity, rewatchability, and, of course, coziness. Here are my personal Top 5 picks for Friendsgiving specials new and old to last you through the long weekend (along with your autumn leaf-colored pre-roll).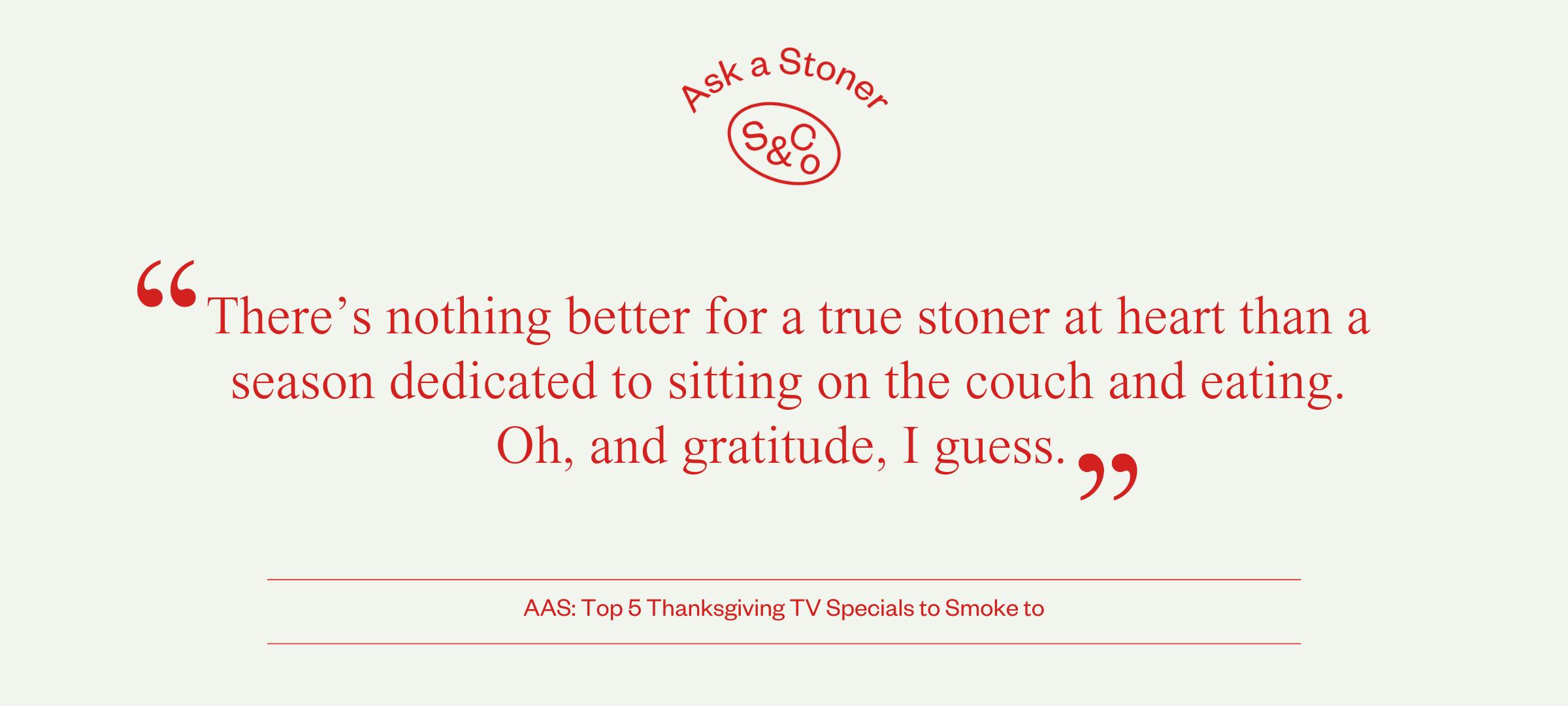 5. "Turkey in a Can," Bob's Burgers S04E05
Bob's Burgers has a plethora of perfect Friendsgiving specials to choose from, but my personal favorite is "Turkey in a Can," the tale of a three-easy brine gone horribly wrong. When Bob's famous long-marinating Turkey mysteriously ends up in the toilet two nights in a row, hijinks ensue as he tries to catch the poultry bandit. With a heartwarming and hilarious twist you'll want to see to believe, this is a perfect Friendsgiving special for stoners who want to go goofy, yet wholesome, to the max. 
4. "Black Friday," Superstore S02E10
One of my personal favorite slept-on sitcoms is Superstore — the workplace comedy about a ragtag group of adults who are bonded by their employment at the fictional Walmart-inspired department store, Cloud Nine. Black Friday is a mega-holiday in its own right, and anyone who has ever worked in retail during the holidays will relate to the team's antics among deal-hungry crowds and post-meal madness. With food sickness and bribery in tow, this is a great pick for getting high and laughing along to our materialistic fascination with door-buster savings.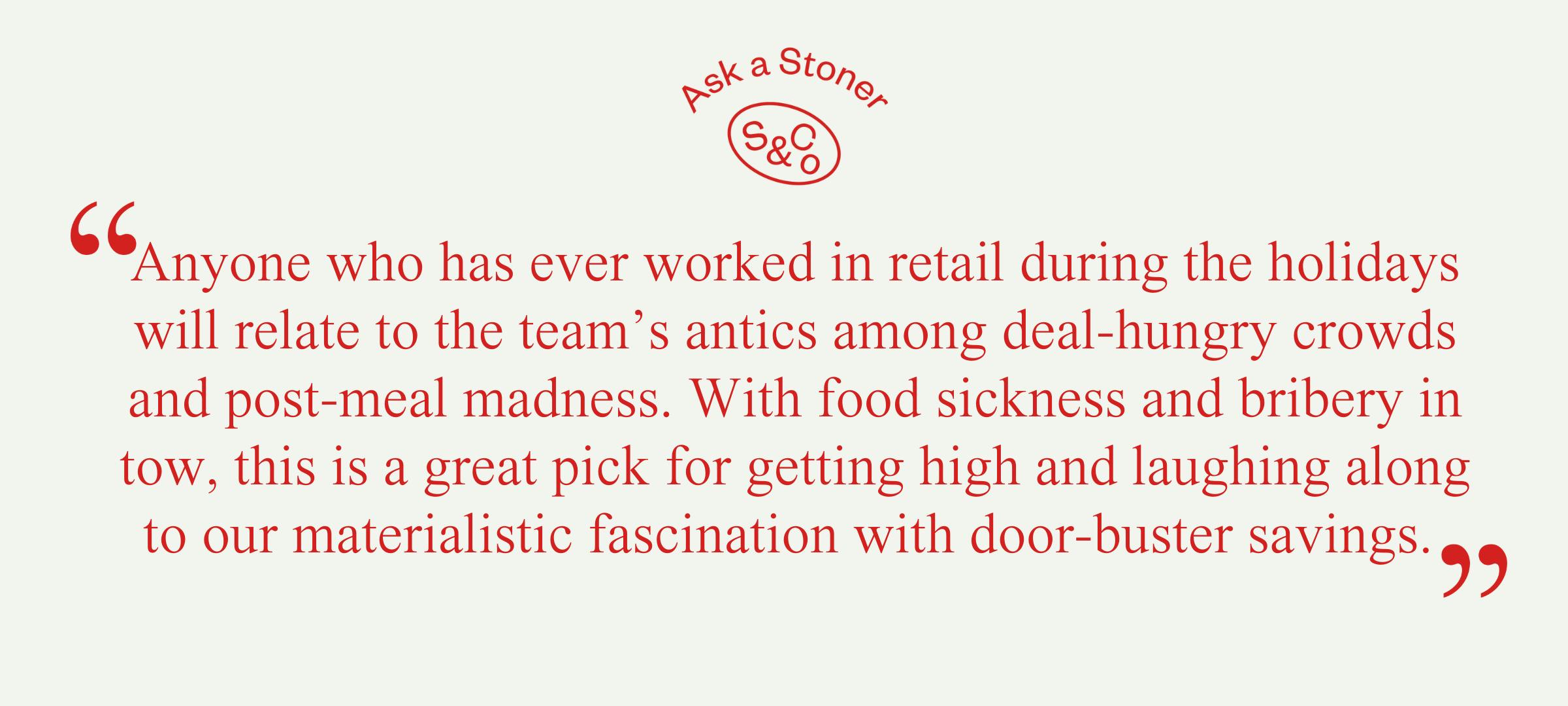 3. "The Gang Squashes Their Beefs," It's Always Sunny in Philadelphia S09E10
Die-hard fans of It's Always Sunny will love this episode where the gang decide to break bread and squash their beef over Friendsgiving with those they've wronged. In the show's classic darkly funny fashion the dinner soon goes up in flames — literally. With plenty of disgusting and uniquely annoying characters and off-the-walls scenarios, this Friendsgiving special scores high on hilarity and low on coziness for stoners just looking to bust a gut without any of the nostalgia. 
2. "Blair Waldorf Must Pie," Gossip Girl S01E09
An NYC classic, Gossip Girl was prolific for their Friendsgiving episodes, sending fans into a tizzy awaiting next year's dynamic-altering issues. The inaugural offering, "Blair Waldorf Must Pie," in season 1 set the scene for years to come, starting off with a bang as Serena's family decides to spend the holiday with Dan's despite their complicated dynamic, a touching storyline about Blair's absentee father, and a classically awkward Archibald family gathering which, of course, spirals out of control. If you're looking to turn up the drama and the eyeliner with your Friendsgiving grab bong in tow, look no further than Gossip Girl.
1."A Deep Fried Korean Thanksgiving," Gilmore Girls S03E09
The best Friendsgiving special of all time, in my opinion, comes from a show set in a town cozy enough to be Friendsgiving all the time. Any children of divorce will relate to this holiday where Lorelei and Rory are forced to down four full spreads. It's also Rory's first mention of the Yale timeline that will set her on sail for the rest of the season, marking a pivotal turning point in the mother-daughter relationship. Get under a blanket, grab your rig, and get ready for the waterworks with this extra-snuggly special — even if only for the theme song. 
Let me know how my picks stack up to yours and happy indacouch season!
Got a burning question or pot topic you want to discuss with our Stoner-in-Residence? Send an email to hello@sackvilleandco.com with the subject "ASK A STONER" or DM us on Instagram @sackville.and.co for a chance to be featured.