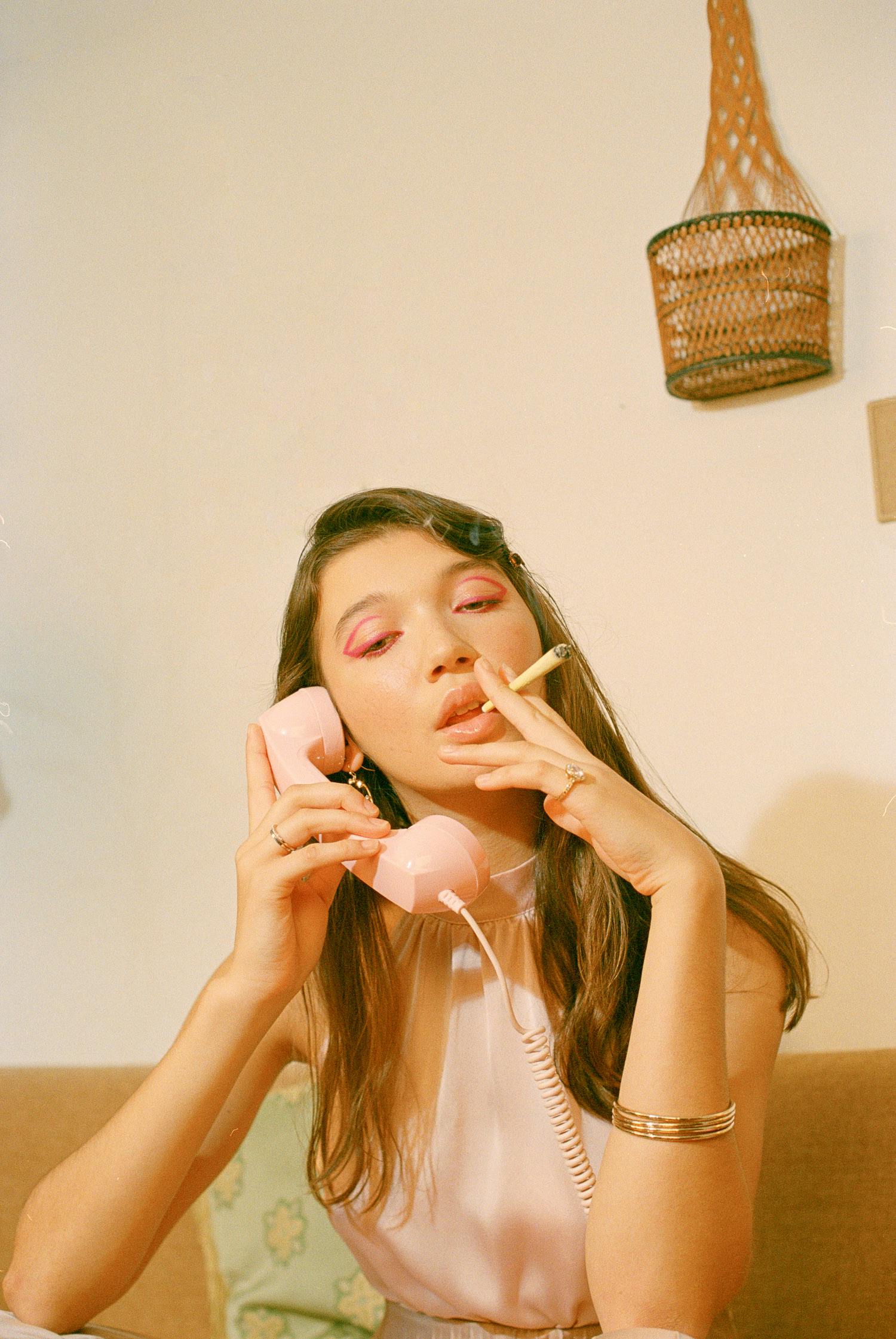 Ask A Stoner ~ Can I Use Weed to Help Me Work?
Dear Ganja Girlboss, 
Using weed during the day, while working, is certainly one stigma barrier we have yet to cross. Of course, it's not for everyone — I know plenty of people who wouldn't be able to use a straw after a few dab pen hits let alone hold a meeting — but guess what? People are different. 
Many people talk about enjoying weed like they would a glass of wine at the end of a long day. Which is totally fine – and usually an easier concept for those new to the plant to grasp to overcome initial stigma – but it's also totally fine if you prefer it in the afternoon, or – gasp! – even in the morning. When someone has a medical marijuana card, they're typically prescribed to take it throughout the day as needed. Some people even prefer to develop a heavy tolerance so that they can enjoy the benefits of THC with limited impairment.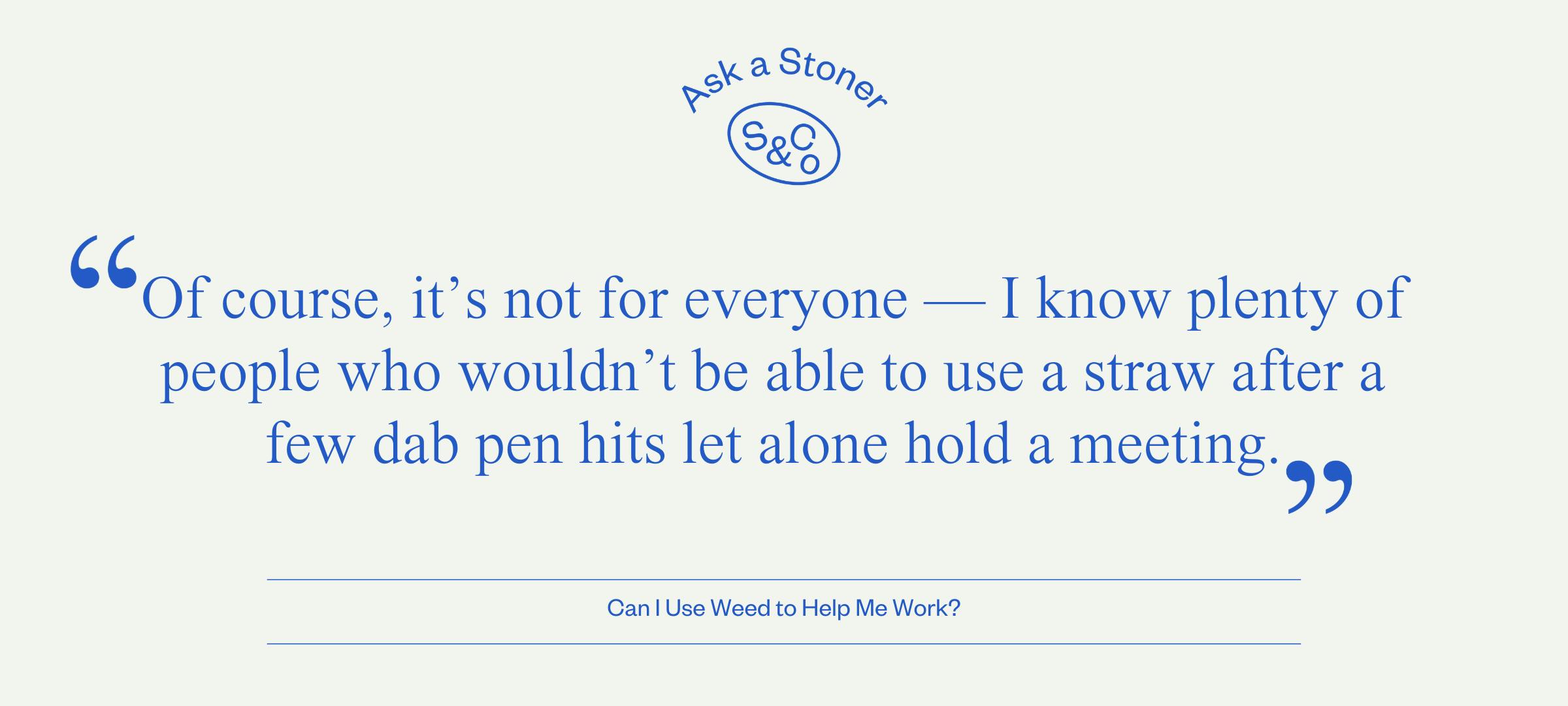 However, I sit in my bedroom and write about weed for a living, so I can only really view this through my own lens. Since you work in an office, I'm assuming you're not taking lives into your hands on the reg – if so, refer to your various oaths instead of the Stoner-in-Residence. Personally, when I'm writing something that feels more conversational and rooted in personal experience (like this 😉) weed helps me get my creative juices flowing, too. When I'm editing, though, I'd rather be sober – it can be hard to give a fuck about an oxford comma after a bong hit. But, as I said, everyone is different. 
My opinion? If you're happy and it helps you, hit your dab pen in the back alley of your office building with pride. Just because not everyone else is cool with it doesn't mean you're doing anything wrong.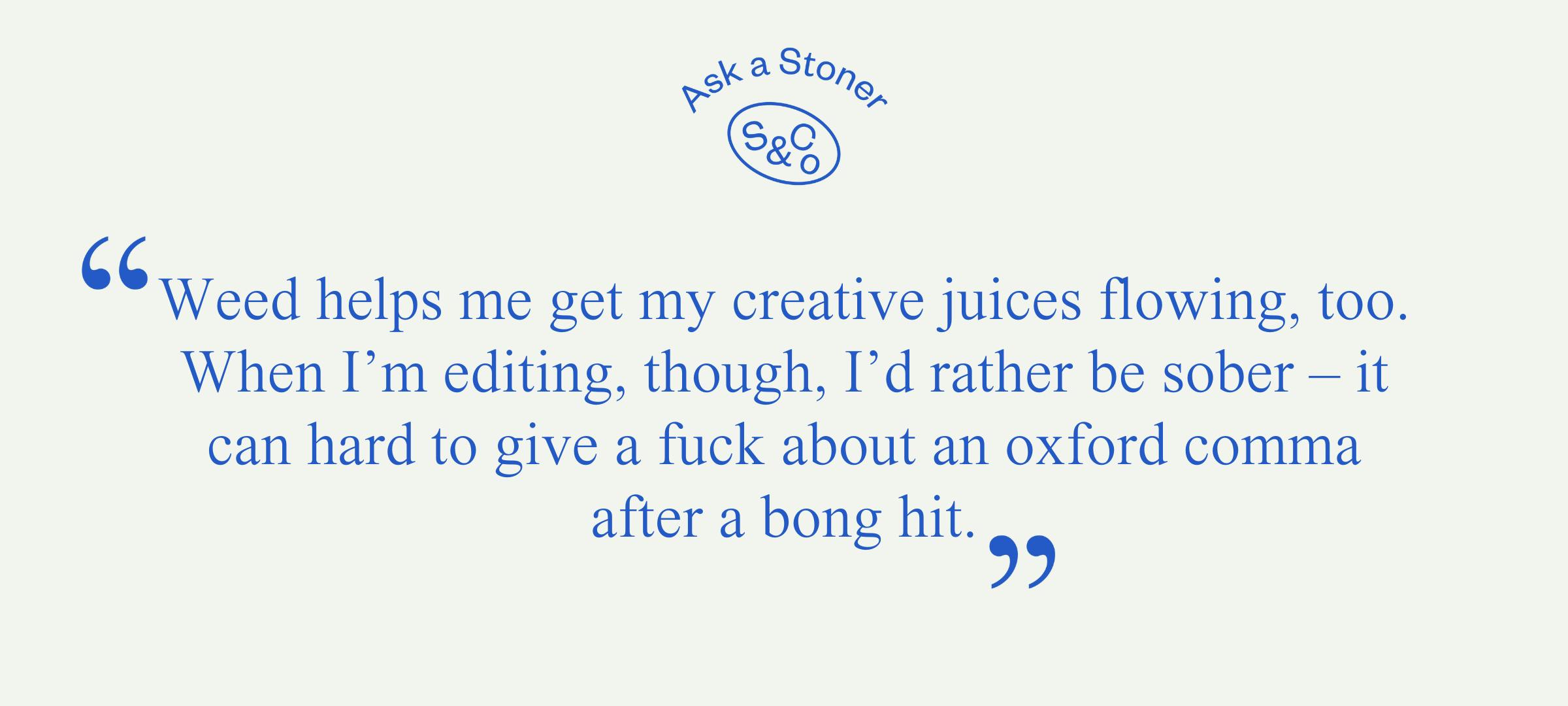 What do you think? Does weed help you work or do you find yourself six tabs deep on an ASOS bender? I can't wait to hear from you. 
See you next Tuesday, 
Stoner
Got a burning question or pot topic you want to discuss with our Stoner-in-residence? Write in to hello@sackvilleandco.com with the subject "ASK A STONER" or DM us on Instagram @sackville.and.co for a chance to be featured.