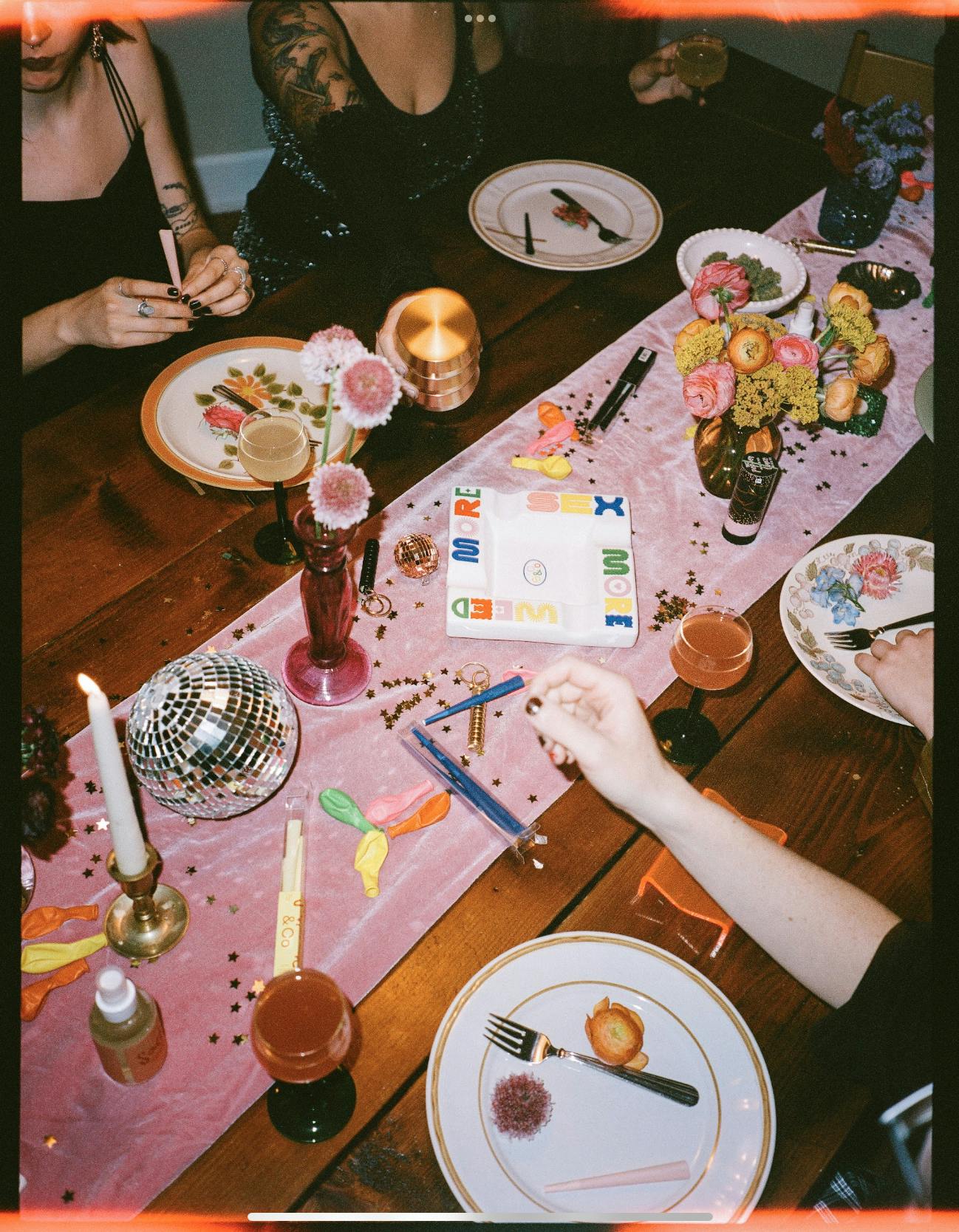 Ask a Stoner ~ How to Throw a Weed Winter Wonderland Party
Dear Season's Weedings, 
I too love a holiday party, but I don't love the headache I get from pounding a bottle of red wine the morning after. Could I learn how to self-moderate? Sure, but it would be a hell of a lot easier if there was a gorgeous spread of bud to choose from instead. While my ultimate tip is to load up on bud and keep the fruitcake flowing, here are a few specifics to really keep things merry and bright.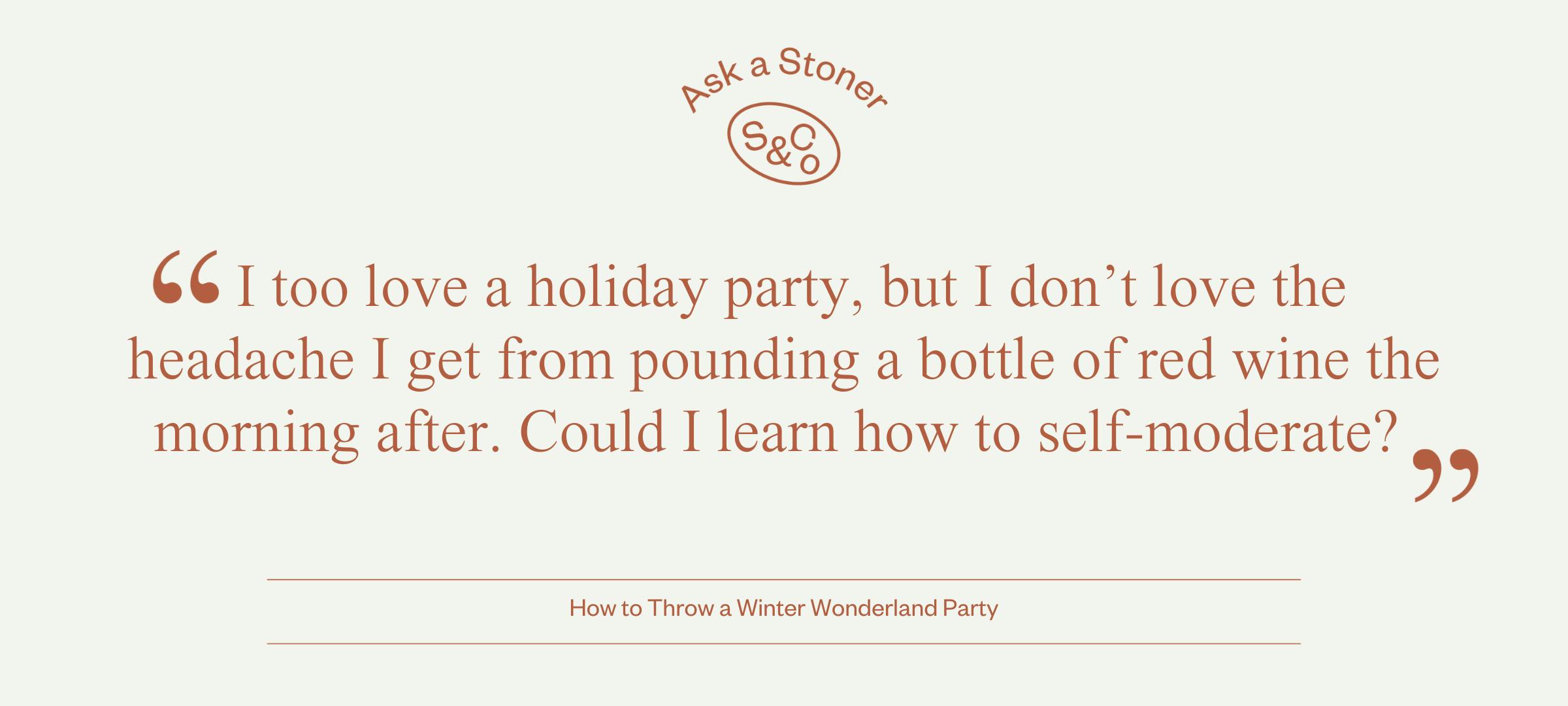 Hang the Mistletoke
Swap one little bundle of herbaceous greens for another by hanging a nug from the doorway with a big red bow. While you're free to enforce the kissing rule, I recommend encouraging unlikely couples to share a bowl of the bud for a true Hallmark movie moment. 
Trim the Tree with J's 
Instead of hanging ornaments and candy canes from the tree, deck it out with the carry case keychain and cones in every color. When the party's over, invite your friends to pick their party favor right off the branch. 
Cannify your Charcuterie 
While charcuterie boards have undergone plenty of makeovers (including the now famous butter board), there's nothing better than a variety of delicious edibles to choose from. Whether you're making your own or stocking up at the dispensary, be sure to include a wide variety of complementary flavors like fruit, nuts, chocolate, and more. Better yet, arrange your spread on a rolling tray for extra pizzazz. 
Ditch the Bar for a Rolling Station 
Instead of spreading out bottles on your bar top, fill your coupe glasses with rolling papers and top cocktail napkins with rolling stands for a new era of party entertainment.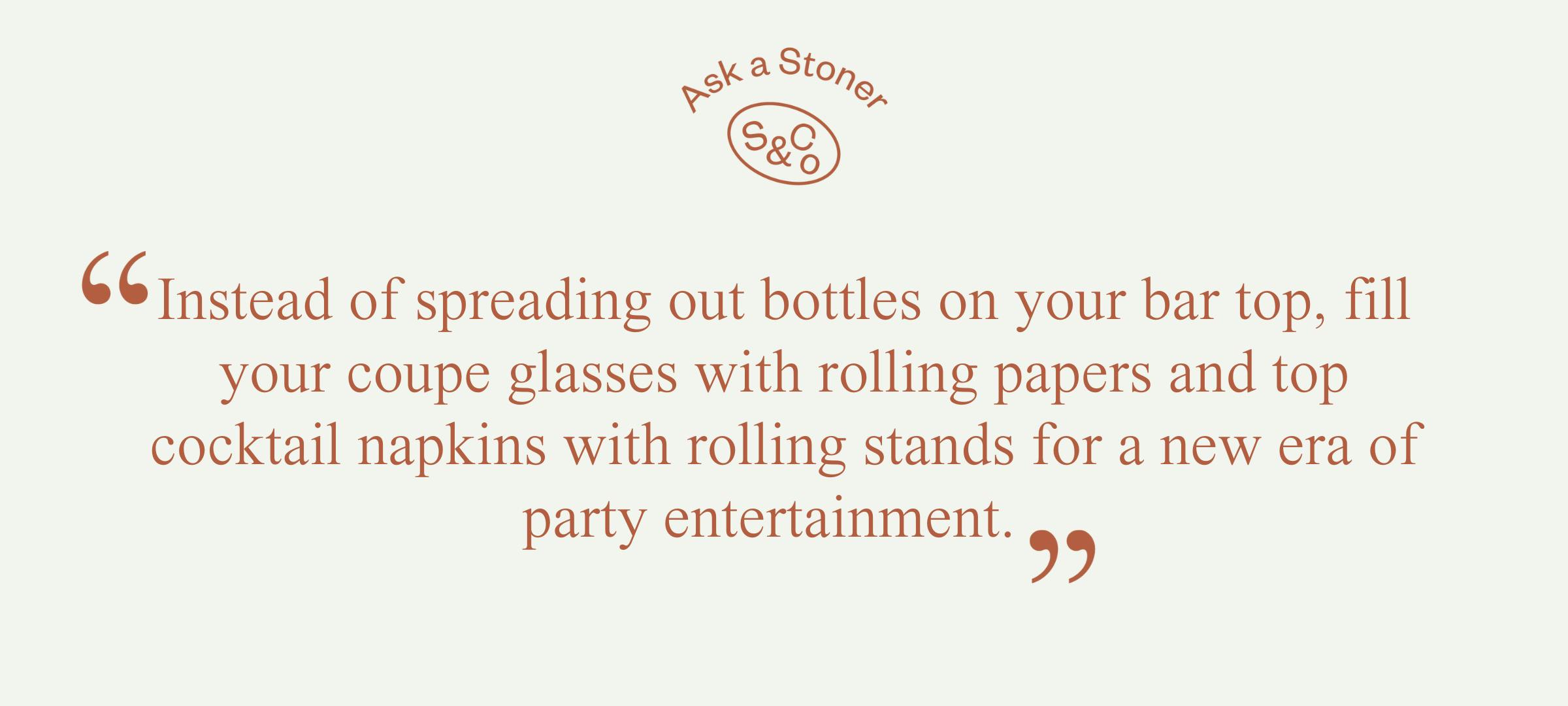 Brew Infused Eggnog
Eggnog is a holiday party staple, but you don't have to mix it with bourbon to have a good time. Throw some decarboxylated bud in a cheesecloth sachet in a crockpot with your nog, and slowly heat to infuse for at least a couple of hours before ladling out your confection into your favorite nostalgic mugs. 
Sustainable Gift Wrap 
Forget single-use gift wrap this year, and be a sustainable stoner by using stash bags to double as a bonus present to be used year round by your lucky recipient. 
Send me photos from all of your high holiday gatherings on instagram @sackville.and.co and DM me any tips I might've missed!
Be high, be merry!
Love, 
Stoner
Got a burning question or pot topic you want to discuss with our Stoner-in-Residence? Send an email to hello@sackvilleandco.com with the subject "ASK A STONER" or DM us on Instagram @sackville.and.co for a chance to be featured.