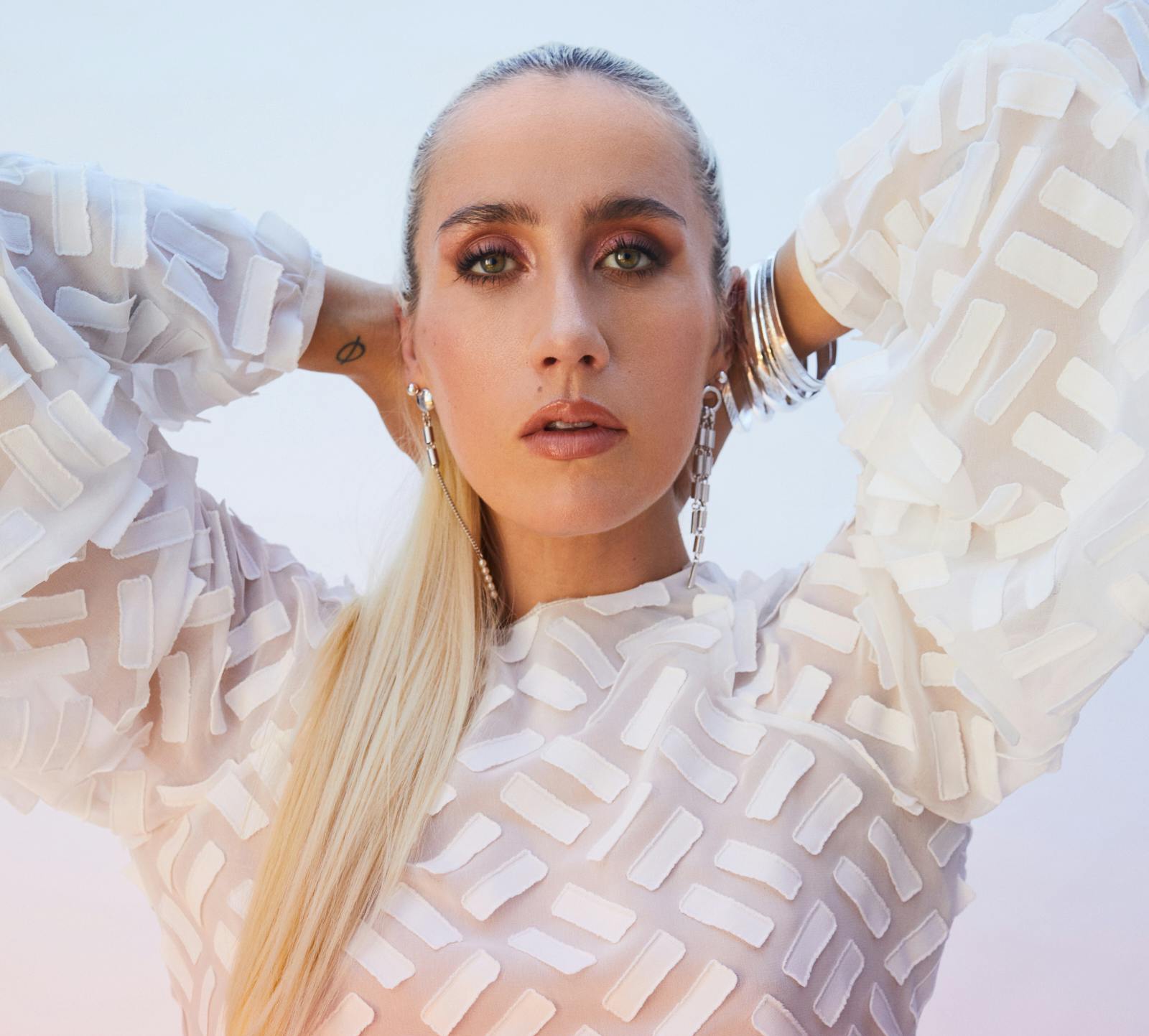 SACKVILLE & CO.  ×  RAFFA
We recently had the pleasure of chatting with Toronto-based, Raffa Weyman, aka RALPH, the magnetic pop-star/songwriter/fashion-plate increasingly known for the blazing success of her self-titled debut EP, and most recent single 'No Muss, No Fuss'. And if you don't know, now you KNOW. Raffa's tunes are like literal rays of sunlight blasting through the gloomiest of thunderclouds and for that we are forever grateful. Here, Raffa shares some heartwarming (and hilarious) details about her Ontario upbringing, while inspiring us with ingredients of her self-care regimen, smoothie preference (especially), and relationship to sweet, sassy weed. 
Name
Raffa Weyman aka RALPH 
Location
Toronto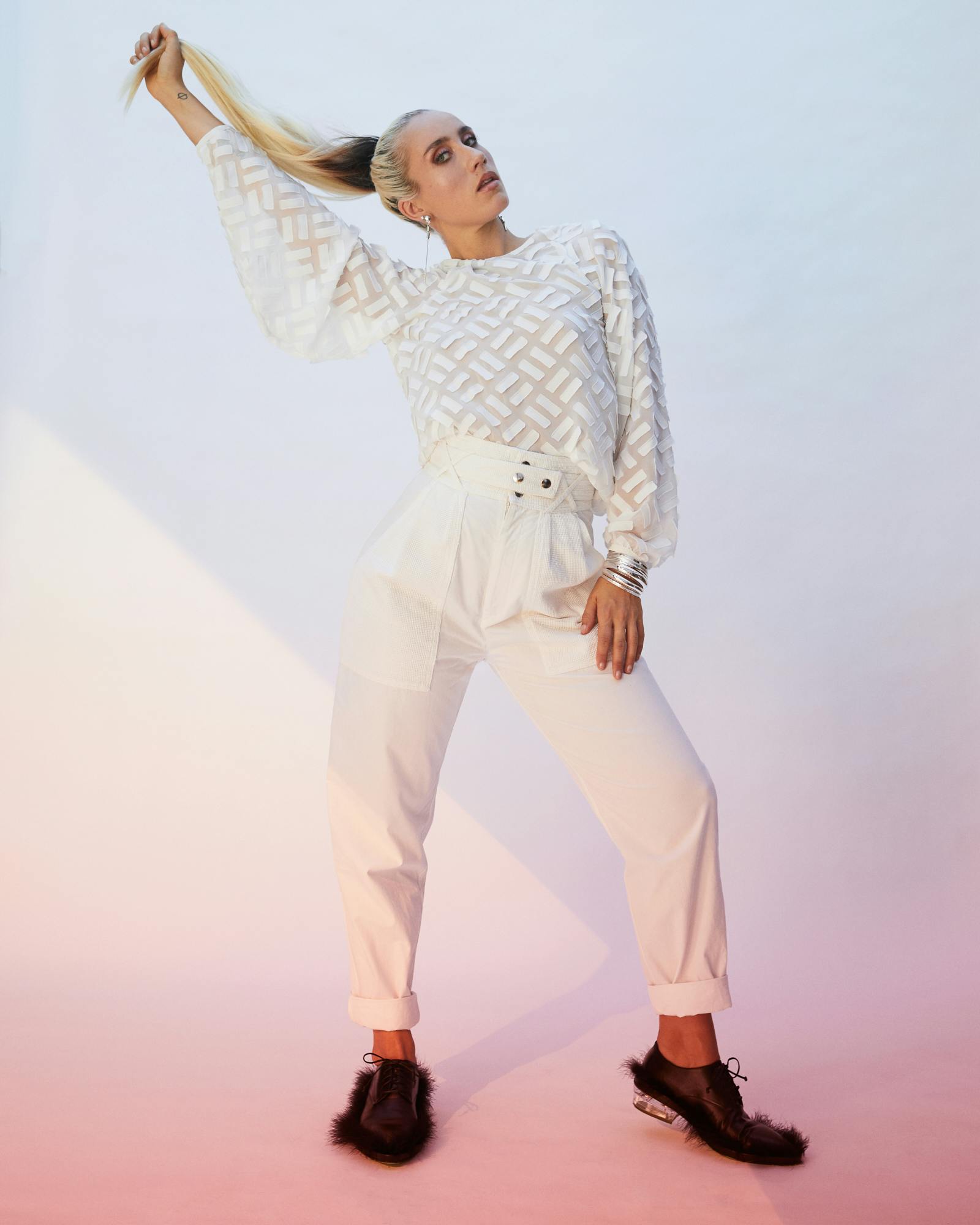 Tell us about yourself in 3 sentences
RW
I can be really stubborn (my nickname growing up was Donkey, so….) but I'm also super sensitive and hate conflict. I'm an introvert/extrovert who is really good at socializing (learned from the best, my dad), but also loves alone time. You can usually find me hosting/attending a dinner party with my friends or family, crushing a game at City Pool, or watching a movie – though my undergrad degree was in film theory, my favorites include 'I Love You, Man' 'This Is 40' and 'Bridesmaids' LOL, can you tell I'm a low key stoner? 
Describe an example of how you practice self care
RW
Mornings are super important to me, they completely shape my day. If I wake up late for something and have to rush, it ruins my entire mood, which means I'm shaky and grumpy and have 100% forgotten something important at home. I HATE rushing. 
Since I'm a night owl that rarely sleeps before midnight, my ideal morning routine involves waking up around 9:30 or 10 AM. Then I make coffee, down my morning zucchini smoothie (which I have every day – it's not as gross as it sounds or looks, promise), and sit on my couch and do a crossword, or read or catch up on emails. I'm also trying to meditate more to help with my anxiety, so ideally I would do 5 mins of meditation. 
Then I would go to a workout or yoga class, since fitness is a huge part of self-care for me. It helps me get out of my head and also makes me feel strong and healthy, which is key for me as a performer who has always struggled with body image and eating disorders. I find routine really helps me feel in control and stable, which then ultimately makes me a happier human and a better artist :)
Any current muses you'd like to tell us about? 
RW
Artistically, I'm currently very intrigued by Lennon Stella. I'm a big 'Nashville' fan, so it's awesome to see her developing her artistry outside of the show. Her lyrics and production are wicked, and she's so well spoken and engaging in interviews. 
I'm also obsessed with Nadia Lee Cohen, a British director/photographer who creates the most insanely absurd and beautiful images. I'm always trying to discover more female filmmakers and I love everything Nadia does. In my dreams, she would direct a video for me. 
Style-wise, I love Tiffany Hsu. She's a Taiwanese/American fashion buyer and has the most amazing outfits, always. Whenever I need inspiration, I look to her. And Rihanna. 
Which location always guarantees great vibes aka your happy place? 
RW
Gem [Raffa's BFF + talented photographer/director] and I shot photos at my country farmhouse, which is basically my other home. It's about 2 hours north of the city and is shared with my father's side of the family – about 22 of us and we're all very close. I've spent holidays and weekends up there since I was a baby. There's tons of family videos of us running around naked, or doing weird parades and plays for the adults. 
The farm is a big wooden house from the late 1800s, so it has a lot of history and you can feel it when you're there. It feels familiar and warm and full of memories. One of my favorite objects in the farm is the record player, because music is such a huge part of the farm experience. We always listen to old records while we cook, eat, read, get high and play games at the table. 
Our parents and relatives often talk about their relationship to the songs and get a wistful look in their eyes, it's very beautiful. I think growing up listening to all sorts of genres – folk, blues, rock and roll, it was jazz that really inspired me as a songwriter and singer, and created my deep interest in the magic of music. 
Can you describe an early experience / memory of your relationship with cannabis?
RW
Oh god, so many to choose from [laughter]. I remember my first time trying a water bong, I was like, 13 and my older brother and cousins were smoking on a balcony at the farm. I was always trying to impress them so I was like, "Hey, let me hit that." They were worried I wouldn't do it right, and that I would blow out instead of inhale (which would cause the water to explode and the cherry to blow out), but I was all like, "No, no, I can do it." 
Of course, I blew out and everyone yelled at me because I had extinguished the cherry and got the weed all wet. I felt like a noob. I might have even cried. I honestly don't think I've tried a water bong since, I still feel like a self-conscious 13 year old who's gonna fuck up and get yelled at. 
Describe your current relationship with this fine flower
RW
I come from a very liberal family, and thankfully, my parents were always really cool about us smoking weed. They were like, "If you're gonna do it, we'd rather you smoke here instead of some sketchy alley where you could get caught". And that was awesome, because I felt comfortable to experiment and talk about it with my family. 
So, from Grades 9-11, I smoked a lot of weed and it was a huge part of my life, but after a couple of negative experiences (smoking weed, losing my vision and falling down the stairs; smoking weed at a New Year's party while drinking and getting so scared that I literally texted my brothers, "help me so high", eating mushrooms and losing my vision AND hearing for about 3 minutes) I got psyched out and convinced myself drugs weren't for me anymore. 
I took a break for a couple of years, but in my early twenties started smoking weed again by myself or with friends I was really comfortable with. I didn't have any bad physical reactions and found myself laughing a lot and feeling really happy. So I decided to make it more of a personal, intimate thing instead of a public partying thing, and since then I've come to love marijuana again. Whenever I need a good laugh or just a little amusing buzz, I have a little toke in bed and watch a movie, or write a song and experiment with my keyboard. I love smoking up at the farm with my cousins and playing boggle and eating samosas, it's like this familiar social cue for us that feels good because we're in a safe loving space. I think it's so funny that people see it as a gateway drug or a destructive party drug, because I see it as so the opposite. For me it feels like a comforting cup of tea that I enjoy responsibly with friends and family, or alone to conjure creativity and to help me sleep!
Describe the last time you cried with laughter
RW
It was on tour, my bandmates and I were stuck in a hotel in Burnaby, BC with a spliff. We decided to get high and walk to a nearby all-you-can-eat sushi buffet, where we basically just sat and laughed throughout the entire meal. 
Back at the hotel we were writing a song all together and it became a joke song/jingle for an escape room enterprise (don't ask). It went something like, "When it's your birthday, tell your mom, VROOM VROOM, drive me and my friends to a fuckin' ESCAPE ROOM!" I remember lying on the bed while we ad-libbed lyrics and almost peed my pants because I was laughing so hard. Needless to say, it's my next hit single.