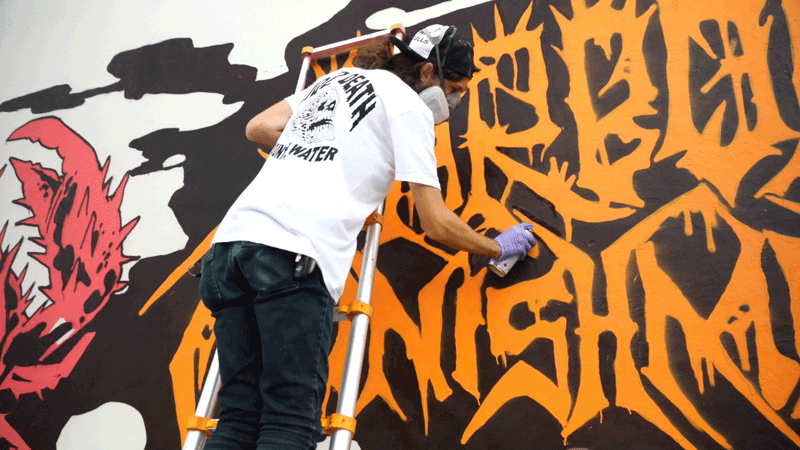 Meet Brian Butler, Miami's very own UPPERHANDART
TELL US ABOUT YOURSELF IN 3 SENTENCES.
BB
A chunk of people know me from painting murals.  Another chunk of people know me from drawing at concerts. The other chunk of people know me from all the branding stuff, and like drawing concert posters.
WHERE DO YOU FIND YOUR INSPIRATION?
BB
In this case, at a seafood restaurant. Can we do a photoshoot where the keychain is on a pile of coleslaw, surrounded with fried clam strips?

TELL US AN "I WAS HIGH" STORY
Im not high, but I just added pancake mix to my mac n cheese. And now the noodles taste like little pasta donuts.
WHAT'S YOUR FAVE PLACE TO GET HIGH AND WHY?
I imagine it would be cool to get high beside a volcano… like a chill one. One that is slowly farting out lava. Making earth. Like land babies.

TELL US ABOUT THIS LATEST PROJECT, WHAT WAS THE INSPIRATION FROM, ETC.
This project is an extension of my Baked Clam series. It was inspired by New England clam bakes, and all that charming summer beach stuff. The Baked Clam is a nod to that Cape Cod barefoot "shorts and a hoodie" heritage, but still fun and stupid.
YOU WERE JUST FEATURED AT ART BASEL (CONGRATS!!!), I BET THE 10 YEAR OLD YOU WOULD HAVE BEEN BEYOND STOKED FOR YOU! WHAT WAS THE PROCESS OF CREATING FOR ART BASEL LIKE AND DO YOU HAVE ANY ADVICE FOR THE ARTISTS THAT ARE HOPING TO FOLLOWING IN YOUR FOOTSTEPS ONE DAY?
10 year old me is disappointed I'm not a monster truck driver. I envisioned future-me winning Monster Jam, and driving a truck that flies like a dinosaur. "Truck-o-dactyl".

To fellow young dreamers, I'd advise learning stick-shift. You're going to need to know how to work a clutch.

IS THERE A CHARITY OF CAUSE YOU'D LIKE US TO CALL OUT TO MAKE PEOPLE AWARE OF?
I don't know. Folks are burdened enough. I don't want to refer my favorite problem.
ANY UPCOMING WORK YOU CAN TEASE HERE FOR US?

If any of your readers have access to volcanoes or monster trucks, I have a few ideas :)