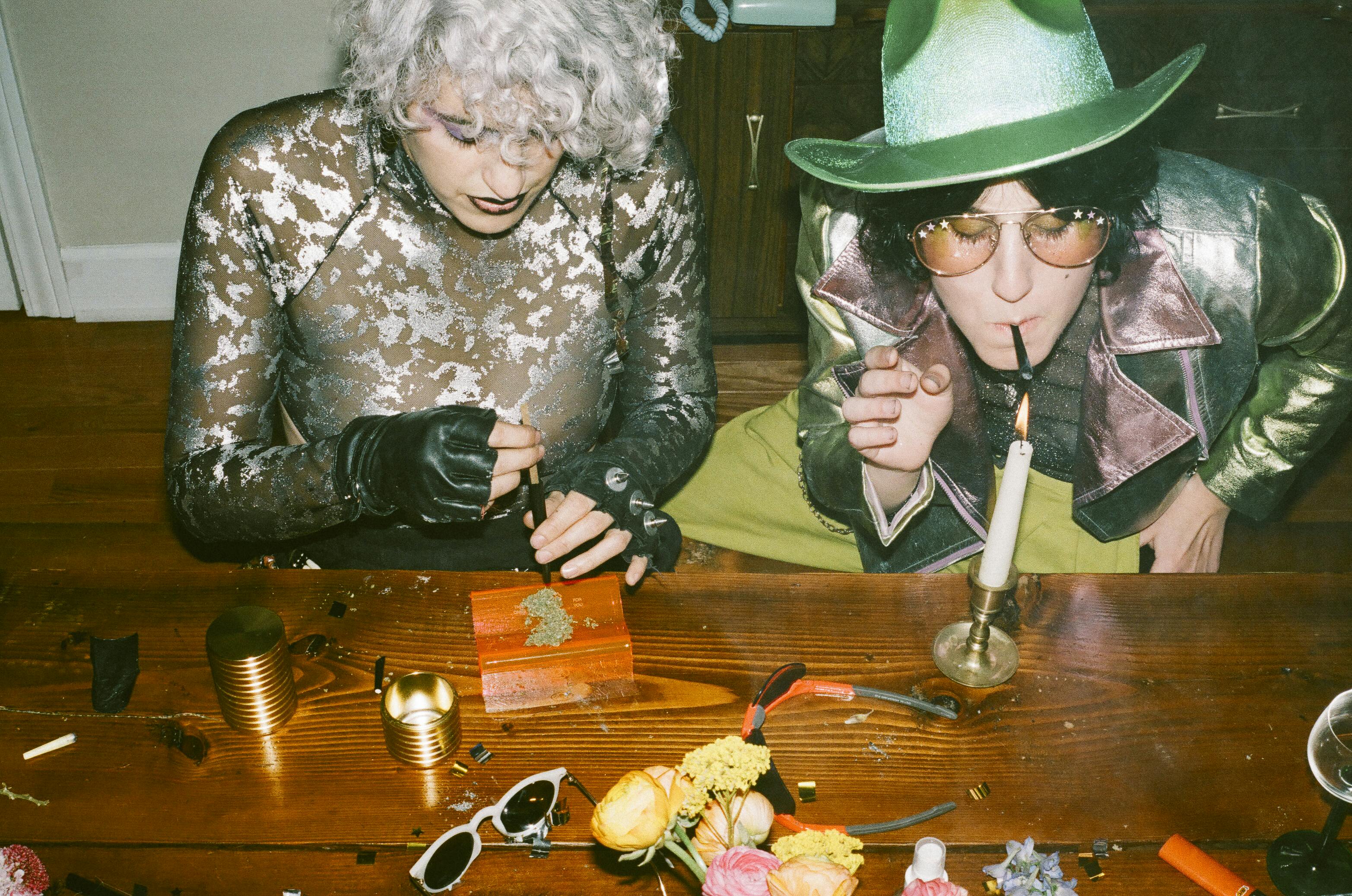 Our Top 10 Picks for Sackville's Black Friday Sale
Being merry is a state of mind, and what better way to celebrate BLACK FRIDAY than stocking up on presents for your favorite stoners (yourself included)! 
My TOP 10 PICKS for the most lit Sackville gifts include the chicest cannabis essentials for both the connoisseurs and the curious in your life. In honor of the giving season, Sackville is offering 25% off sitewide (ends Cyber Monday) so don't settle for the standard bottle of wine — go plant based with your gifts this holiday season:
1. Greetings from NY Brown Sweatpants 
The Greetings from NY sweatpants are the chic companion to the apple-centric collection, featuring both the Sackville & Co and I <3 NY apple pipe logos — I'm especially obsessed with this chic brown for fall. This would be the perfect gift for any cozy stoners relegated to outdoor smoking in the chilly winter months. 
While all of the crystal ball pipes are the modern glassware snob's favorite sight to behold, my personal favorite shade is powerful — a bright amber hue that catches the light to illuminate the living room like a sunny day. Buy this for smokers obsessed with the ritual and aesthetic of their favorite activity. 
The Pillar Grinder is the most visually striking of the iconic trio — it's tall, toned, and totally sculptural, making it a great vessel to store your bud and show off on the coffee table. This is a great gift for any serious stoner who wants their smokeware to feel as luxe as possible. 
4. Greetings from NY Big Apple Grinder
In my humble opinion, the Big Apple Grinder is the most adorable Sackville drop to date. I will absolutely be stocking up on these goodies for my whole smoke circle this Black Friday, stuffing every stocking with the cutest grinder they're guaranteed to ever see. 
I carry the Sackville Mini Tote almost every single day. The perfect size for errands big and small, you can tuck the top in for a normal tote or pull it up to magically turn it into a cinch-top pouch. This is the perfect gift for the stoner who is always bopping around town and offering pre-rolls to everyone in their wake. 
The joint carry case is an essential Sackville staple: aesthetically pleasing, completely smell-proof, and sturdy to protect your little buddy in the bottom of your tote bag. Once you go carry case, you never go back — go ahead and add it to your daily checklist: phone, keys, wallet, gilded joint holder? Check. This gift is perfect for any weed-lover in your life, but it might be one best kept to yourself. 
7. Greetings from NY Blue Dad Hat 
The Greetings from NY blue dad hat is the perfect "no paparazzi please" accessory for your supermodel off-duty hot girl walks to the bodega. Got any city slickers in your life? They'll be enchanted by our apple pipe logo and perfectly incognito denim-hued brim. 
8. Weed Out the Bad Vibes Hoodie
In the season of warm and cozy sesh fits by the fire, the "weed out the bad vibes" hoodie is a great way to bundle up without sacrificing your aesthetic. Have an art-loving pal who's drawn to Matisse-like figures, Art Deco florals, and everything in between? They'll adore this high-fashion hoodie for keeping it cozy and classy. 
Whether you're a crypto-pro or can't tell the difference between an NFT and THC, The Big Apple Collectible is an amazing way to communicate directly with the brand and the rest of your Sackville community of stoners — giving you perks, discounts, and a seat at the Sackville table. Give the gift that keeps on giving by making your favorite stoner a Sackville Social Clubs Member: with options for new designs, creative direction polls, limited edition merch, exclusive access to our favorite spots in the Big Apple, and so much more — all year long. 
My favorite companion to my smoking ritual are the full array of Sackville room sprays. Grounded, in particular, is a relaxing mix of lavender, eucalyptus, and sage to set the mood with a spa-like breeze. Even better, it perfectly complements the scent of our other favorite herb, cannabis, instead of covering it up. Say hello to a fresh, earthy air better than any fancy cannabis candle