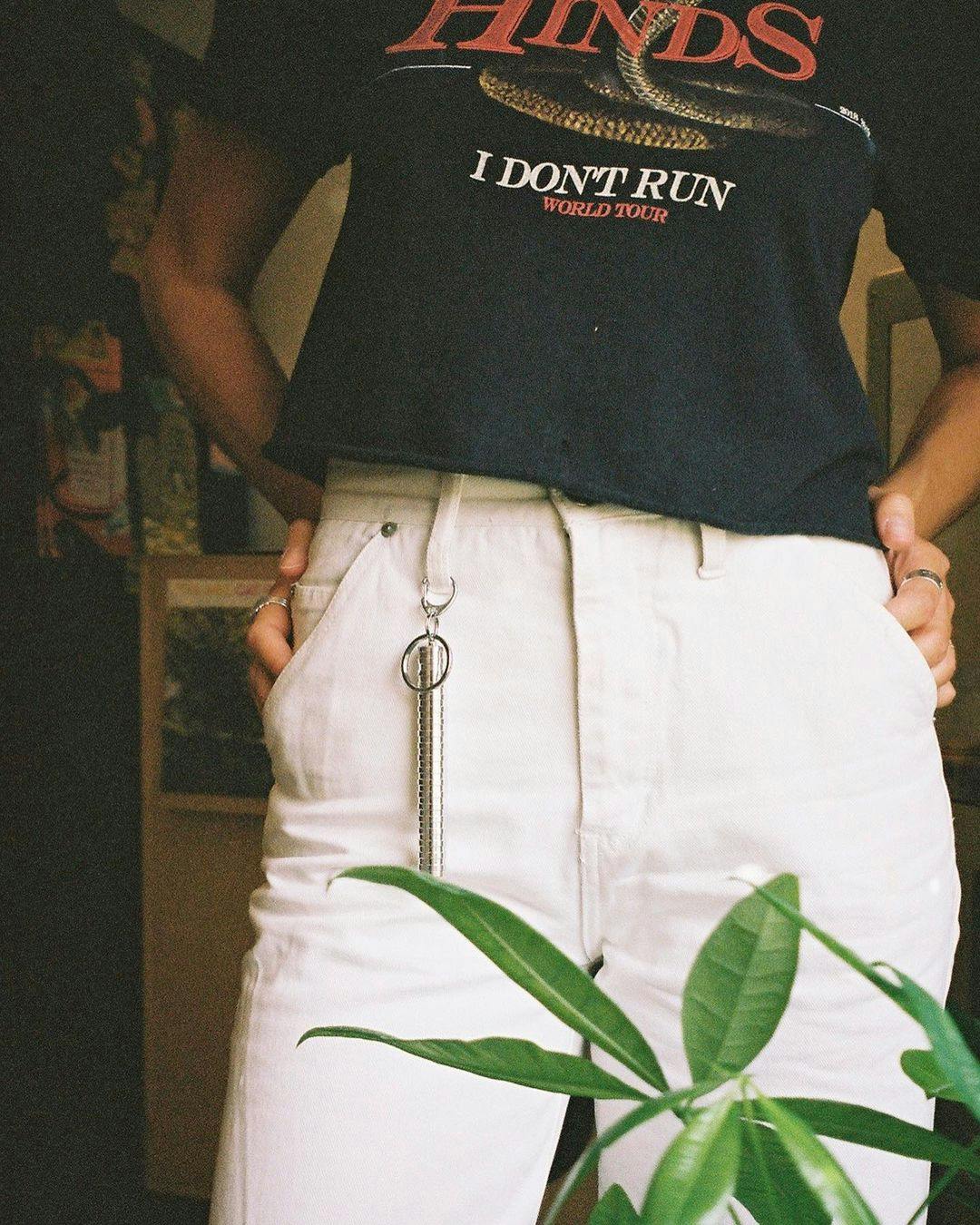 Ask A Stoner ~ How to Amp up Your Outfits with Cannabis-inspired Accents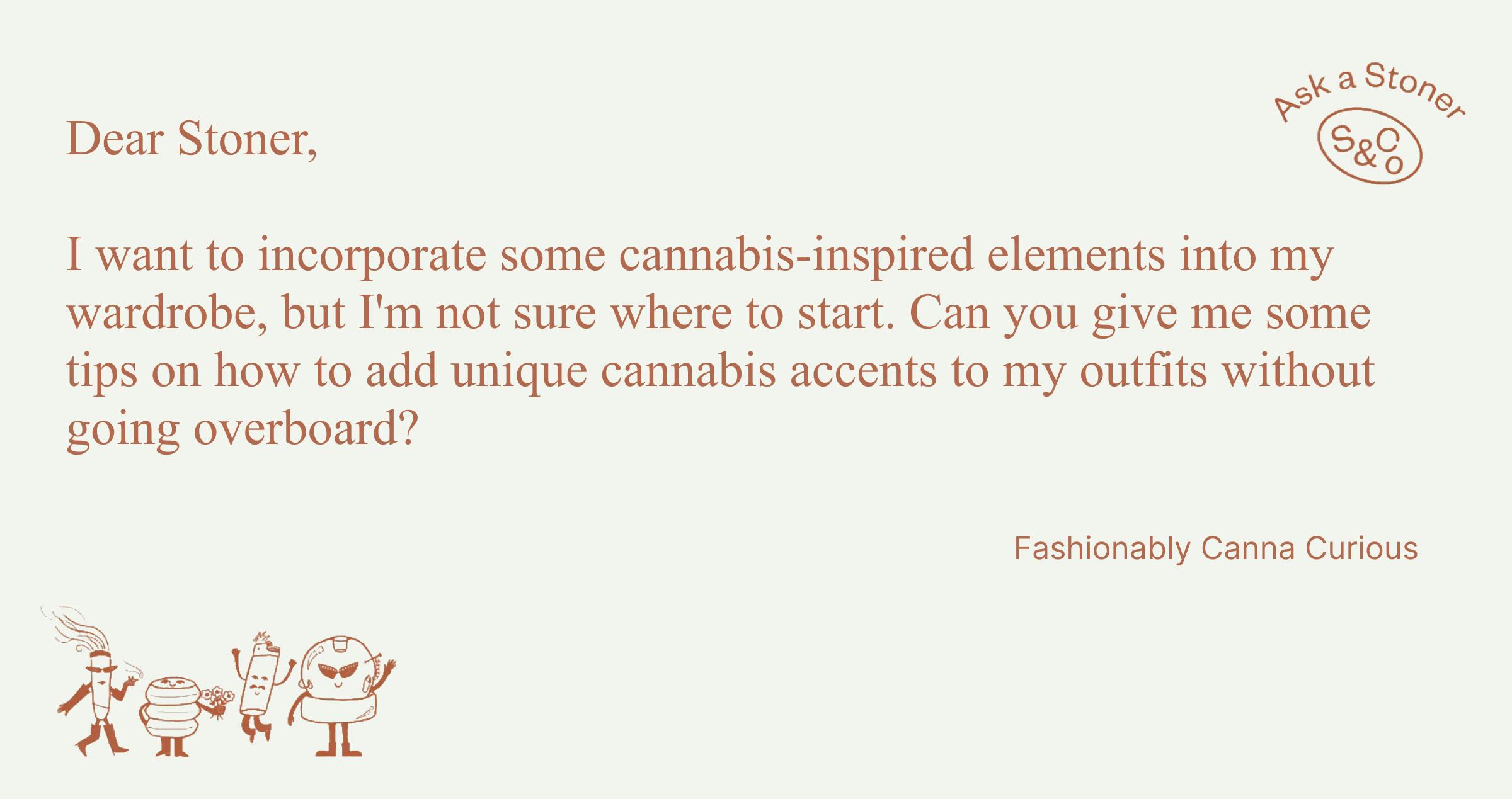 Hi Fashionably Canna-Curious!
You've come to the right place! Our co-founders Hayley and Lana bonded over their shared frustration of not being able to find design-forward cannabis products to fit their personal style. They founded Sackville because they believed in a future where cannabis and fashion would meet.
In this blog post, we're going to explore eight fabulous ways to add cannabis-inspired accents to your outfits without going overboard. From cannabis jewelry to vintage merchandise and DIY creations, we've got all the tips and tricks you need to elevate your style with a touch of cannabis flair. So, let's dive in and discover how to amp up your outfits with these creative and fashionable ideas.
1. Smoke-wear:
Let's show some love to Sackville & Co.'s fabulous smoke-wear! Joint Carry Case Keychain is the ultimate stoner accessory that keeps your single joint or vape safe and snazzy right on your keychain. Oh, and did I mention it's waterproof, airtight, and keeps your cannabis fresh? Talk about a head-turner that's both practical and stylish!
Now, brace yourself for the pièce de résistance – the Sackville x Sundae School Mochi Grinder! This little silver gem takes smoke-wear to a whole new level. Shaped like Sundae School's adorable five-petal flower mochi gummies, it's a grinder that doubles as a chic necklace or keychain. Literal smoke-wear that's both fabulous and functional – I'm totally here for it!
2. Cannabis Jewelry:
One subtle yet striking way to start is with cannabis-themed jewelry. Consider pieces like necklaces, bracelets, or earrings featuring tiny cannabis leaf pendants or charms. These accessories can be a conversation starter, allowing you to connect with fellow enthusiasts discreetly. Look for quality materials like sterling silver or gold plating for a touch of elegance.
3. Vintage Cannabis Merchandise:
Scour vintage shops or online marketplaces for old-school cannabis-themed merchandise. Vintage t-shirts, hats, or accessories featuring classic cannabis logos can add a retro touch to your wardrobe. Plus, it's a cool way to pay homage to the rich history of cannabis culture.
4. Custom Cannabis Art Pieces:
If you're feeling artistic, why not create your own custom cannabis-inspired pieces? You can paint or embroider cannabis leaf designs onto denim jackets, tote bags, or canvas shoes. This not only allows for self-expression but also ensures your style is entirely unique.
5. Subtle Accessories:
For those who prefer a more understated look, consider smaller accessories like cannabis leaf pins, hairpins, or even cannabis-themed phone cases. These subtle touches can be just as impactful in expressing your passion for cannabis.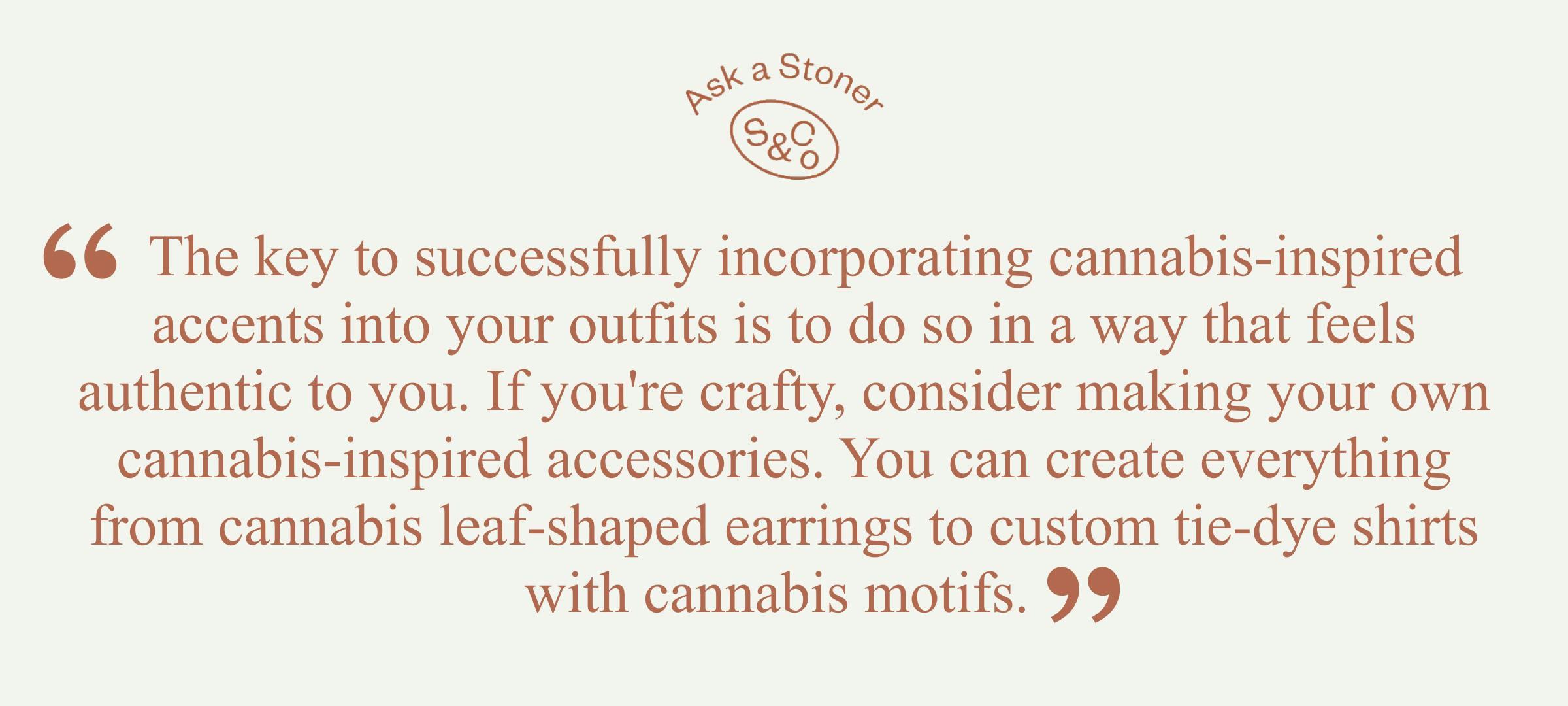 6. Cannabis-Inspired Nail Art:
Your hands can be a canvas for creativity too! Nail art featuring cannabis leaf designs or even a subtle green hue can be a fun and fashionable way to celebrate your love for the plant. Experiment with different designs and colors to find what suits your style best.
7. Cannabis-Inspired Fragrances:
This might not be a visual accent, but scent can be a powerful accessory. Look for cannabis-inspired perfumes or scented oils with hints of earthy, herbal notes. It's a unique way to carry the aroma of cannabis with you wherever you go.
8. DIY Cannabis Accessories:
If you're crafty, consider making your own cannabis-inspired accessories. You can create everything from cannabis leaf-shaped earrings to custom tie-dye shirts with cannabis motifs. DIY projects add a personal touch to your style and can be a lot of fun.
The key to successfully incorporating cannabis-inspired accents into your outfits is to do so in a way that feels authentic to you. Experiment, have fun, and don't be afraid to mix and match. It's all about expressing your unique style and celebrating your love for Mary Jane.
Got a burning question or pot topic you want to discuss with our Stoner-in-Residence? Send an email to hello@sackvilleandco.com with the subject "ASK A STONER" or DM us on Instagram @sackville.and.co for a chance to be featured.