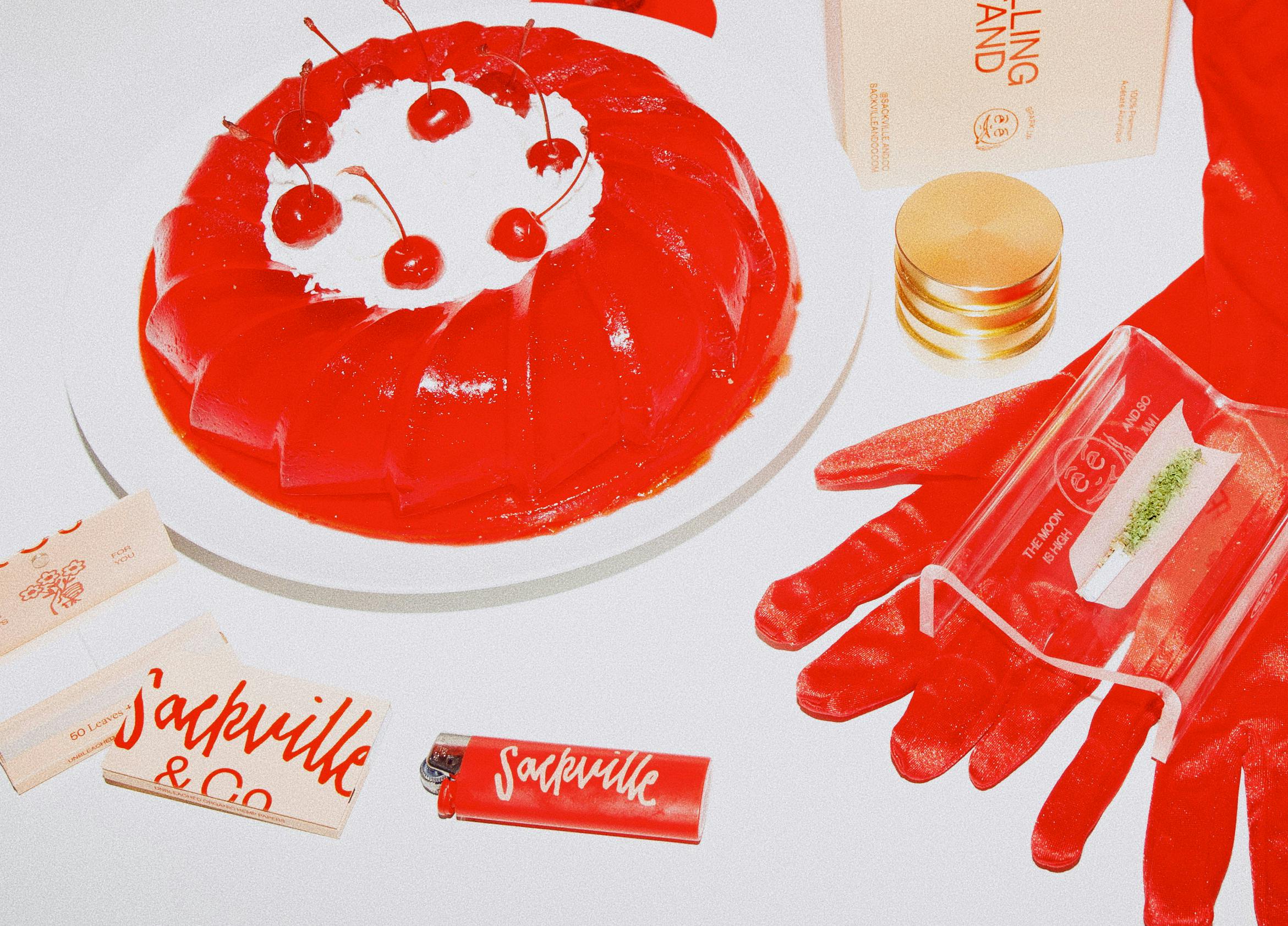 Ask a Stoner ~ What are the best Valentine's Day munchies?
Dear Sugar High,
First of all, thank you for giving me an avenue to explore my burgeoning career as a candy reviewer/influencer. I must admit that I've dipped my toe into the candy aisles at Target already this year and, though there's cute packaging galore, Valentine's Day-specific candies are harder to come by. I do have a list of a few classics and new favorites to enjoy after a few bong rips with your lovebird, but, perhaps even more importantly, I have the few you should avoid like a bad trip.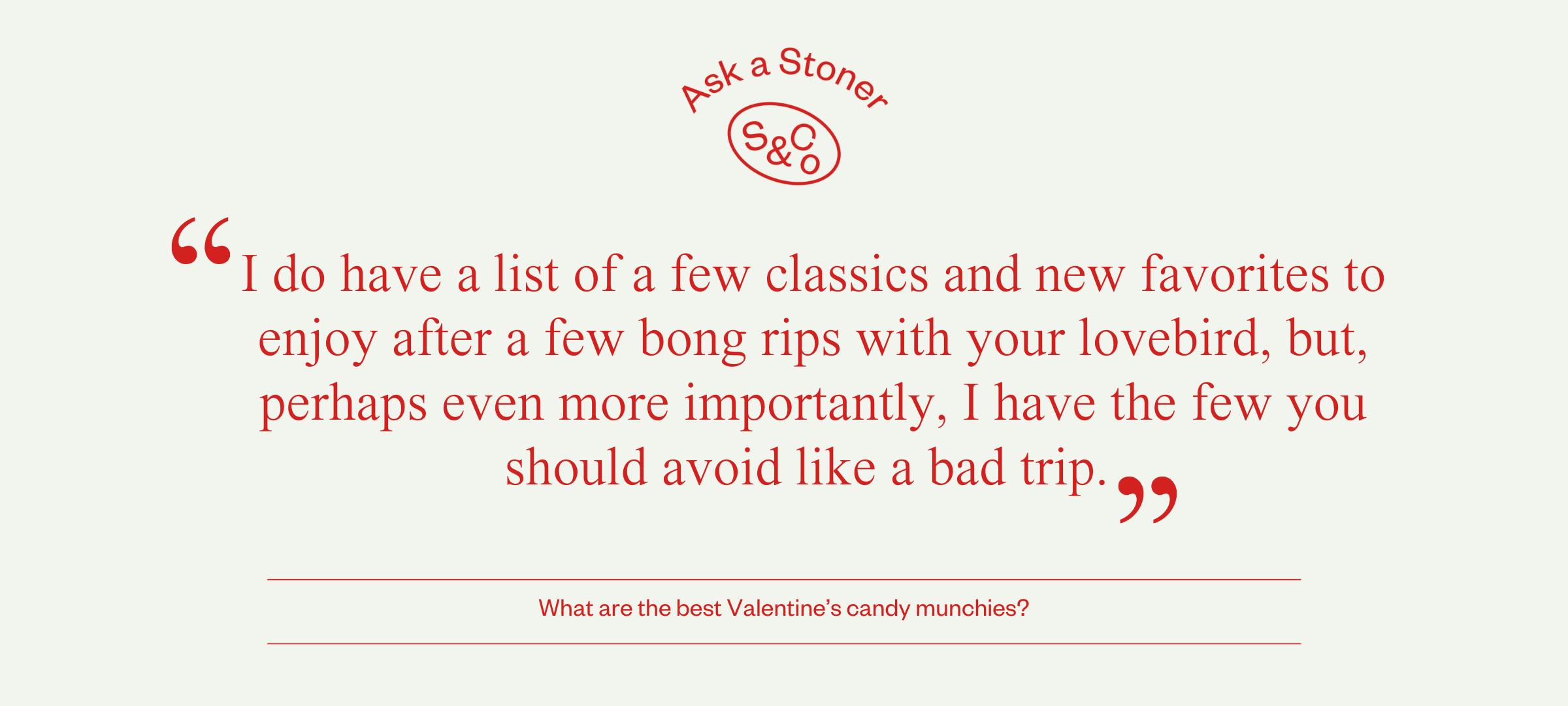 The Best 
Chocolate-Dipped Strawberry Hershey Kisses
These Kisses are a new player in the Valentine's game, but they're quickly becoming an instant classic (at least in my household). Your favorite milk chocolate drops are filled with a sweet strawberry jam that melts in your mouth without gushing on your shirt (especially if you're a bit impaired). 
Pairs best with: Greetings from NY brown crewneck 
Match your chocolates and keep it cozy by bundling up in brown as you chow down. 
Jelly Belly Valentine's Jewel Beans Bag 
I must admit that I'm a Jelly Belly head already, so I understand if you're not down with the beans. That being said, this back of sparkly, iridescent Jelly Bellys in shades of dark pink, baby pink, and pearly white speak directly to your stoned third eye. They're also flavored Very Cherry, Bubble Gum, and Cream Soda, accordingly, and somehow taste as good as they look. 
Pairs best with: Sackville & Co Pink Jelly Acrylic Rolling Tray
Spread your beans out on the pink jelly acrylic tray for a crush-worthy charcuterie board. 
Ghirardelli Valentine's Dark Chocolate Sea Salt Caramel Hearts
One of the best munchies ever no matter the shape, these dark chocolate delights are filled with a perfectly salty-sweet caramel. The Valentine's edition is a double heart with a swirled design on top, perfectly poised to fill a bowl while you smoke a bowl. 
Pairs best with: Grounded Crystal Ball Pipe 
The gorgeous blue hue of the grounded crystal ball pipe pairs perfectly with the shiny light blue packaging just as exciting as Tiffany's.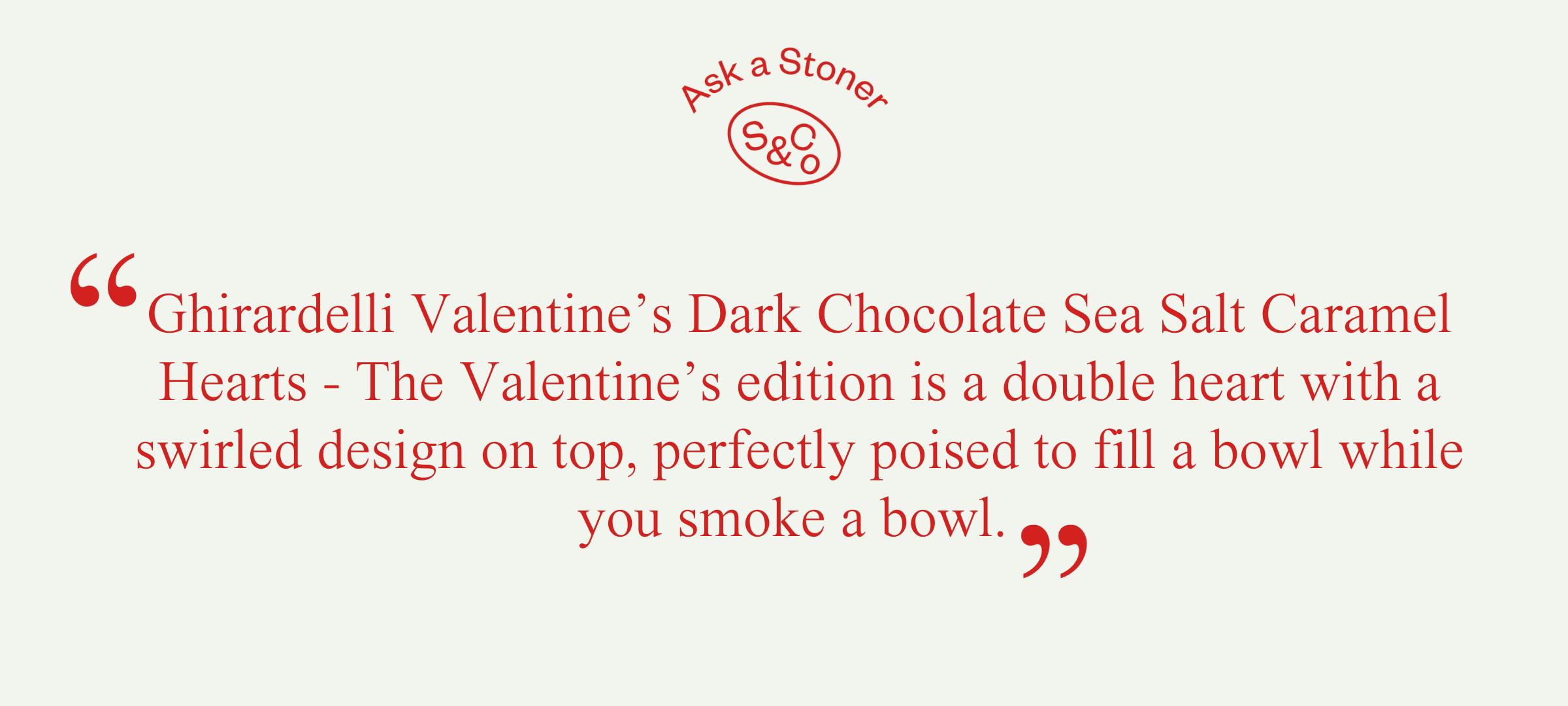 The Okay 
Russel Stover Valentine's Red Foil Heart 
Unfortunately, only about half of the Russels are good, and the other half are different forms of nut clusters. Raspberry crème? One of the greats. Cashew cluster? Better left un-munched. 
The Worst 
Sweethearts Conversation Hearts 
We all saw this coming. They're chalky, barely flavored, and frankly make me a little uncomfortable. They're either the old-school pick up lines like "sweet on u" or something new-age and somehow cringier like "swipe right." Avoid these at all costs, especially if you're more than a little lit. 
Reese's Valentine's Milk Chocolate Peanut Butter Hearts
This is an unpopular opinion, but I firmly believe that any Reese's shape besides the original cup has the improper chocolate to peanut butter ratio. The chocolate is thinner to account for the whimsy, and we're all worse off for it. 
Galerie Valentine's Red Chocolate Roses 
Simply bad. The Valentine's equivalent of the chocolate Easter Bunny. 
Do you agree? Am I alone in my love for sparkly pink jelly beans? Let me know!
Love, 
Stoner
Got a burning question or pot topic you want to discuss with our Stoner-in-Residence? Send an email to hello@sackvilleandco.com with the subject "ASK A STONER" or DM us on Instagram @sackville.and.co for a chance to be featured.